Nomad isn't the right word – I love my bed FAR too much. Is it 'aloof'? Yeah, fuck it – I am professionally aloof – sometimes. Words are difficult.
Somewhere between realising my life doesn't need the validation of strangers, a colossal reset of my affirmations and figuring out that most hotels have a gym – the tiny fragment of me which enjoyed the rat race of professional interactions kind of just – stopped needing to be fed. There was a time, not so long ago, that any social or business event had to have me down as a guest / speaker / first ticket buyer or something. Ya guy had to be involved.
Consciously, I loved (and to an extent – still love) being in a room where jokes, wit, knowledge and repurposing Missy Elliot lyrics as motivational sidebars make me seem more interesting than I am. Why do I enjoy it? Who knows. Possibly something in the aftermath of my breakup – where the version of me that my ex was telling people I was – seemed far more interesting and dramatic than who I am – made me realise that actually enjoying my personal life and owning my narrative was a better way to live.
The version of me which lives in your head – is probably not real. I like peace and quiet, listening to the same song 1000 times in a row and obsessively trying to decide which version of something to buy until I just don't – and then walking my dog. It's not exciting, dramatic or anything like that. But dude – it's awesome.
On more than one occasion, I have found myself on a wee-bit of a galavant, being forced (woe is me) to work out of hotels. Let me tell you something really quite honest about all of this… I have more fun and focus on these jaunts than anywhere else.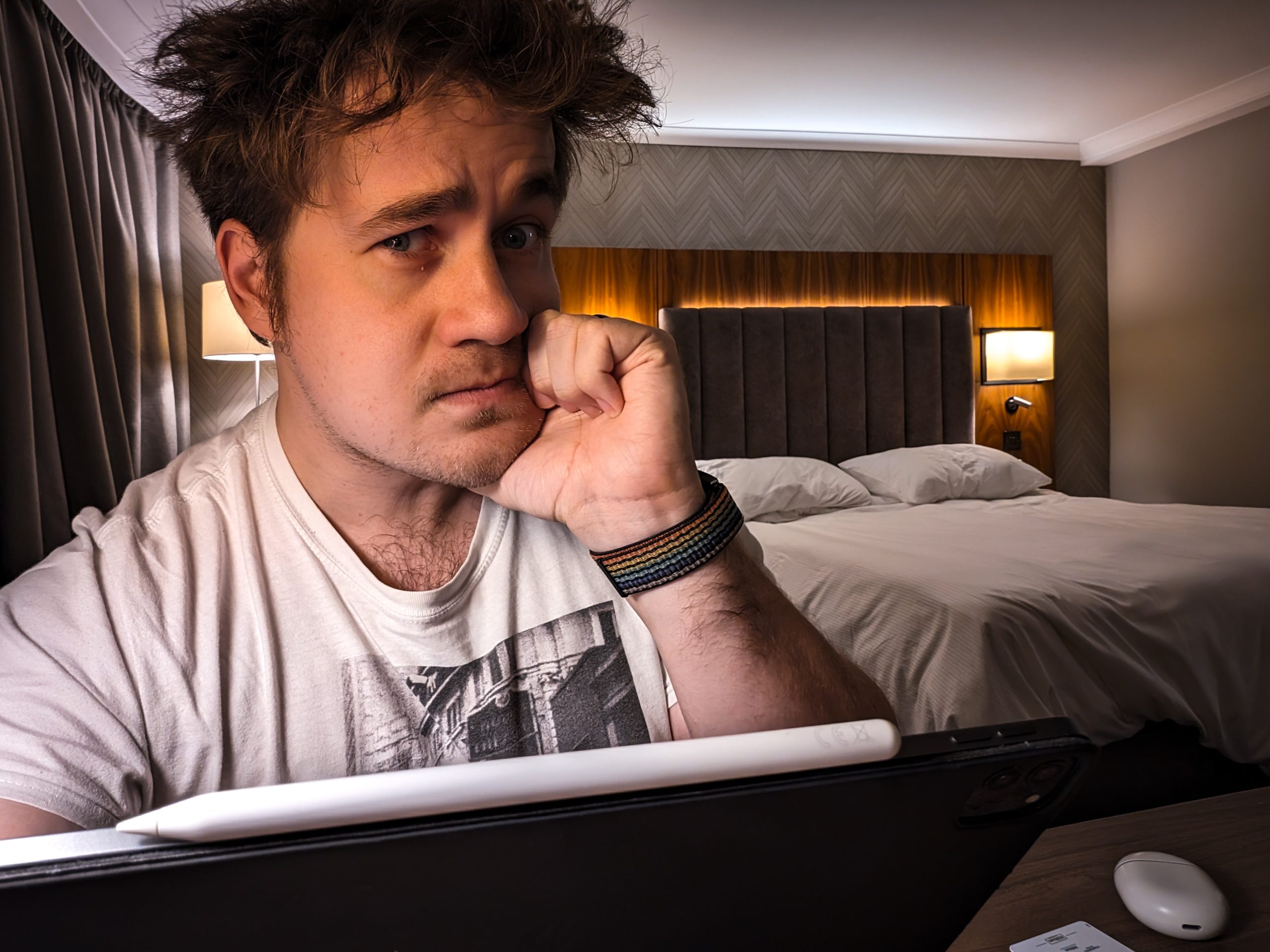 It's Monday, the weather is atrocious – and I just had Uber Eats delivered to Double Tree Hilton. The heating is blasting quite high and I'm coming off the back of a day spent doing a lot of coding work and tinkering with shenanigans. The cost of the hotel for 3 nights is also placated by sending a single invoice for nearly double. In total – the amount of Wi-Fi used, heating blasted and gym usage makes this sabbatical from society massively worth the cost.
During my galavant to Cardiff, I complimented a tight room being used to the max – fitting in a pretty comfortable chair and table for work in a room where a desk wouldn't have fit. Here at the Double Tree by Hilton in Southampton – I am afforded bang for buck. There is a massive work-station and plenty of outlets (with USBC ports in convenient locations, too!) which do not get encroached upon and asked to also host the tea and coffee station. With a gym upstairs, bar somewhere and lush greenery outside the window – this holiday from normal is so very welcome.
Look – there is still every need for offices and the assembly of humans in physical space. That much is certain. What I would ask you to do, dear reader is to heed the advice of a recovering socialite who's entire professional identity was wrapped up in oversubscribing to society – take a fucking break. Look at your calendar and think 'this could be done from home' – then take that energy and repackage as 'this could be done from literally anywhere' – and then go anywhere.
We're moving beyond using nice hotels for holidays and breaks. Take your work, find a cheap opportunity and treat yo damn self. Clock out and take in a show, head to a new bar or do something different.
While the irony is not lost on me, considering this is where a lot of you will have come from – but fuck LinkedIn off for a minute. Christ, the self-gratifying flexing claims of profit, an award nobody cares for or the latest pizza party you threw to make it up to a team who lowkey resent you – it's all too much. Stop listening to the people killing themselves with 5am 'Rise & Grind' mentalities. The B-Tech Gary Vee 'influencers' promising to 10x your warm leads for free (If you pay them). Bollocks to all of that. Book a hotel with a spa, use the desk, bash out the work and then do something dope for yourself. Try a new meal, get a massage, sit in bed with the heating on and watch Netflix.
It's so hard to leave my bed in the morning these days – and I am happier and healthier for it. Shit, I'm even doing better work for it. Why? Because I treat myself as a human now. In doing so, people seem to wonder if I vanished. No – Alex is just filling his cup, ya'll.
We'll move past me listening (and signing) to Backstreet Boys through headphones while housekeeping entered without me realising – and just agree that most of my ideas are awesome.